What do you get when you cross candy canes and oreos?
Ore-oh-Ho-Ho's!
Yes, it's official -I have a lame sense of humor... Anyway....Behold, my holiday masterpiece! Peppermint oreos rolled in crushed candy canes! Yum!!
For the cookies you will need 2 boxes of Devil's Food cake mix, 2/3c oil, and 4 eggs. 3 ingredients, that's it!
Just combine them all in a stand mixer or use a hand mixer (or spoon, if you are old-school).
Form it into balls about 1 inch in diameter. You want to keep them as close to the same size as possible so it will be easier to pair them up when you are icing them. If you have a cookie scoop (or maybe a melon baller?) it would make this a lot easier -I don't, so I just guessed.
Place on cookie sheets (not greased). Bake at350 F for 10-12 minutes.
They might look a little puffy and "tall" when you first take them out, but they flatten a bit when they cool. Let them cool on the cookie sheet for a little while before removing them to wire cooling racks.
Place cookies into pairs (try to get them paired up with a cookie approximately the same size).
Now make your cream cheese frosting.
1 -8oz pkg cream cheese (room temperature)
Beat the cream cheese until smooth. Add powdered sugar and vanilla. Beat until smooth and creamy.
Ice cookies liberally, making sure to get close to the edges. Place another cookie on top and squish a bit til the icing starts to come out the edges (not too much!).
Then roll the edge in your crushed candy canes. To get your candy canes like this, unwrap candy canes (or mini ones) and put them in a small ziplock bag. I usually then put that bag into a heavy freezer bag in case the sharp edges poke a hole through the sandwich bag. Then beat the heck out of it with a rolling pin until the candy canes are in small pieces.
Let them sit out for a little while until the icing starts to set up, then store in an airtight container. I actually like them better after they have been in a container for a while -they get softer and delicious.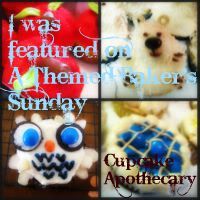 Linked up to: