I read her "Giving Back" page and I was even more impressed! Wow, this girl is awesome! She donates some of her baked goods to the Gaston Hospice -a facility for critically ill patients who can no longer benefit from treatments. After this past year with Hailey in and out of the hospital, that warms my heart. We have met so many people in the course of Hailey's journey who are fighting for their lives and even small acts of kindness can brighten their days.
Tracey also participated in Frosting for a Cause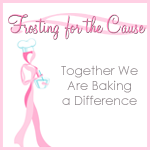 This site is INSPIRING! Every day in 2011 a guest blogger would post their personal story of a woman in their lives who was affected by cancer (in this case, Tracey herself) and share a recipe. In addition to that, each blogger donates money to the cause and commits to donate a batch of their recipe to their local hospice or cancer center. So, yes, now I totally sound like a stalker.. but seriously, this woman is amazing. Thanks, Tracey, for making my day. You're truly one of the good ones.
On another note, I found this site through Amy at
Nap Time Crafters
It's a breast milk bank. I saw it and I was pretty disappointed that I hadn't known about it after Hailey's last surgery -I had TONS of breast milk in the freezer at the hospital their and had to stop breastfeeding her for 6 weeks. I tried to donate it to the hospital and asked about breast milk banks and they told me they weren't allowed to accept it at the hospital. I couldn't find a bank to give it to. Then I found out this place is only for the USA. I felt so bad just throwing that milk away.